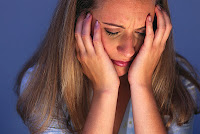 Do you ever find yourself making choices so that other people will feel better, but in the process you end up feeling like you are cutting off little bits of yourself?
Those moments happen when you are giving up too much of yourself in order to attempt to make someone else happy.
Maybe you want to go to women's ceremonies or events, but your partner convinces you that anything just for women is sexist and not in keeping with where spirituality is going today.
Perhaps you really enjoy esoteric and mystical experiences, but you have to take pleasure in them secretly so that your partner doesn't find out, because he doesn't approve.
Or perhaps you don't use your healing gifts because your children think those kind of abilities are not real, and they ridicule you if you talk about it.
I've met a lot of people over the years that sacrifice their intuition and spiritual callings over and over again in an attempt to keep peace in their homes, especially when that calling is connected to the exploration of their Divine Feminine nature. This saddens me greatly, because this sacrifice is the one that allows the Sacred Feminine within us to be suppressed.
There was a time when experiencing spirituality in a feminine way, using your intuition or healing gifts, or having a mystical moment could get you condemned and even killed for being a witch.
The suppression of our feminine mystical natures is still going on. However, although your life is probably not at stake, your harmony at home might be at risk if you choose to follow through with those deep inner urges calling you to your most profound sacred nature.
When you give in to outside pressures and move away from your intuitive calling, you are giving up on yourself. Your inner wisdom knows what you actually need in order to find true respect, peace, honor, love and fulfillment in your life. Most of the time that gentle and quiet voice within doesn't speak as loudly as your family members and friends.
Your inner voice is not trying to persuade you with logic, shame or guilt. It simply continues to suggest and invite you to consider what will ultimately help you find answers to your prayers.
It took me a long time to finally tell my partners and well-meaning friends that they did not know what was better for me. It took a lot of courage for me to walk out the door and follow my intuitive calling, without feeling like I had to offer an explanation to anyone. And it was quite the self-empowering day when I laughingly agreed with my family that I was the weird one in the family and I liked it that way.
When I finally had trusted my intuition long enough, my incredible partner came into my life–ready and willing to trust me, my intuitive insights and my choices. Oh, he questions me from time to time, and when he does I go inward to my intuitive wisdom and ask for clarity. When I receive my clarity, I tell him what I discovered and make my choices based upon my inner wisdom.
He may not understand all of my choices, but he respects them, because I respect my choices. More importantly, I respect myself.
My family still thinks I'm the weird one. I finally ceased to care. I stopped attaching to a need to deny myself in order to make others more comfortable. I didn't come here to make them happy at my own expense. I came here to fulfill my destiny. I came here to live in the joy that self-awareness brings.
What I want for my husband and my family is to know the joy and bliss of their own awakening. That won't happen if I hide behind my fear, allowing their doubts and fears to motivate me into silence and inaction in my own spiritual journey.
If I want them to experience the happiness of deep self-love, then the place I have the most influence is with myself. If I love myself so much that I listen to and follow my truth, I've influenced the web of life in a beautiful way. Who knows, perhaps that love will touch the hearts of those I care about most.
Without the beauty of the Sacred Feminine within our lives, we achieve ourselves to death. We think our way through situations and dismiss the Divine wisdom that comes through our intuition. We compete when it is time to collaborate. We become fixated on our own needs and forget about the needs of others. We lose sight of our ability to live with ease and we are unable to be in the receptive state of receiving. We refuse to be still and quiet enough for the Divine to speak to us. When we sacrifice the Sacred Feminine, we sacrifice a part of ourselves, and we sacrifice a deeper connection to the Divine.
For thousands of years, men have been defining what a woman's relationship with the Divine should be. Now is our time to discover through our own bodies, emotions, and mystical experiences, what it means to us. When we know deep within our bones what the Sacred Feminine energy truly is for us, we might then be ready to share what we have discovered with our men and our families.
This is our time to discover for ourselves. We can choose to walk away in the name of peace and harmony at home. Or we can discover true harmony within ourselves by discovering our own true nature and bring that awakened state back into our homes.