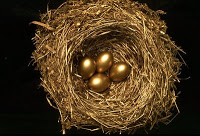 How to Create Income By Stimulating Your Circle of Hope
I was having a really difficult time. I had left my financially successful consulting career to spend a few months (that turned out to be about 10 years) on sabbatical to meditate—healing my body and soul from too many years of abuse. I was offering spirituality based classes and counseling, putting out a lot of energy for the people I served, but there wasn't much coming back to me in the way of money.
My good friend, Ariann (now the President of the New Dream Foundation) listened to me moaning about my circumstances and then shared a basic principle of creation that I hadn't understood. "You get what you give, Misa. You give a lot of your time and talent. That's what you receive in return—the time and talents of others. What you give is telling the universe about what you are hoping you will receive."
I was shocked at how well she was seeing the reality I was creating. Giving of my talents was relatively easy because I had lots of healing to give. People who needed someone to listen to their stories as part of their healing process found their way to me, because I had the time to listen.
In return, I received gracious gifts from people, such as places to live so that I could take the time to heal. People shared some of their precious time to help me create my emerging ministry. I was blessed by people who provided me with the gifts of their talents in protection, promoting, and healing energy. I visited powerful sacred sites and met many individuals who had significant spiritual wisdom to share with me. All of these were reflections of what I gave most freely.
But giving money was difficult because I didn't have very much of it. I looked at my humble bank account, which looked like more like a gas tank sitting nearly on empty, and quieted my mind to decide what I needed to do. Someone I cared about came to mind who was in greater need than me.
That was all I needed for confirmation. I pulled out my pen and wrote them a check. Before I wrote their name on the line, I paused. I anticipated writing this check was going to hurt, but it didn't. I felt free. I knew—absolutely knew—I was making a wise decision. I was going to be fine, and now, so were they.
I am a generous woman, but I am also prudent. I made sure I still had money for true necessities, yet knew I could afford to sacrifice a few meals out or some cups of coffee to help someone in greater need. I made the check out for what I could afford to share. It felt good to know I had just made a difference in someone's life.
Ariann had explained to me with great clarity that in giving money, the universe would respond with money. She was right. It did. Work started coming in and money began flowing once again. I had stimulated my own circle of hope by giving what I most wanted to receive. Perhaps, I had answered someone else's prayer and in the process, created an opportunity for an answer to my own.
This is just one of the powerful principles Ariann will be teaching in the New Dream Foundation's Prosperity Garden Classes. If you missed the first class in the series, you can still sign up for the last two. I highly recommend them. Just this one insight turned my life around. In fact, it works so well, I'll be writing a check as soon as I finish this article. My own circle of hope is needing a little attention. How about yours?