Awaken Your Unique Power as a Woman
Tap Into the Energy Cycles of Creation to Heal and Manifest
"Women have their own powerful way of awakening and creating."
—Reverend Misa Hopkins
Women, Water and Spirit Retreat with Misa Hopkins
Mt. Shasta, CA –
July 14-17, 2016


Postponed
Discover what sensitive women need to know about healing and creating
Awaken the dormant energy for creation that lives within you as a woman
Turn life-long limits into freedom
In this four-day retreat, you explore the healing and awakening power of the Sacred Feminine within you, using the cycles of creation that begin in the womb of existence.

At this Women's Retreat, you will experience:
A safe place to be truly seen and heard
The sisterhood of a circle of like-hearted women
The joy of your creative energy
Life-inspiring insights into your true nature and sacred purpose
Tools and guidance for manifesting your authentic life
With 3 ancient sacred practices you will stimulate the energy of creation to heal and manifest naturally as a woman:
1. The Creation Meditation
Three steps engage the awakening of creative energy:
Holding in the Womb of Creation
The Divine Re-Union with the Sacred Masculine
The Rebirthing of the Self
2. The Four Prescriptions
Journeys, songs and meditations that resolve inner conflicts and limitations that keep you from your true potential:
Surrender
Acceptance
Desire
Commitment
3. Full Moon Healing Water Ceremony
An ancient women's ceremony for catalyzing greater flow between sleeping and waking dream-time to consciously create the life of your choosing. A place for secret power to unveil itself as you chant, dance, and vision with the sacred water.
Your Retreat Facilitator: Misa Hopkins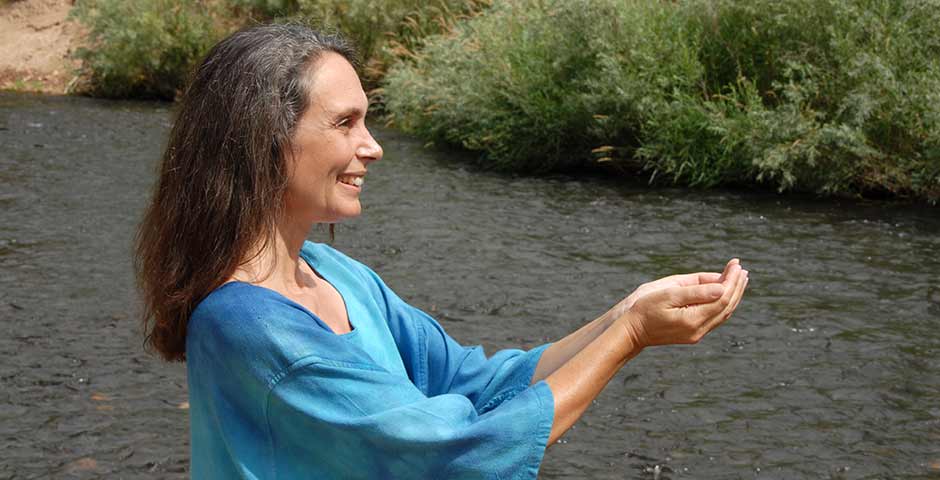 Reverend Misa Hopkins is the embodiment of love, and a life dedicated to the exploration of deep spiritual mysteries and awakening. A beloved spiritual adept and teacher, she is a beacon of compassion, clarity, wisdom and purpose. She is most recognized as the Guardian of the Path of the Sacred Feminine, an ancient Native practice of awakening for women.
In Misa's ceremonies, retreats, and quests, participants discover how to become the space in which love can have its way with them. People tend to feel profoundly seen, heard and loved when they spend time with her.
Here is what others have discovered at our Women's Retreats:
Misa's presence is so deeply profound! In being held by Misa, I have experienced the emergence of life-altering insights and wisdom as well as all-consuming self-love for the first time. As a result of being Held over time, I have grown more attuned to my own intuition and developed an intimate connection with the Sacred Feminine and Universal Womb space. I am so infinitely grateful for Misa's work and her devotion to Holding each and every person in a state of unconditional love and pure acceptance.
The Women, Water & Spirit Retreat was a very special time of sharing with other women. I had an AHA moment when I realized I was afraid of FEELING everyone. Then, I realized I didn't have to be afraid anymore. I had learned how to balance the masculine and feminine energies together, to know that I can incorporate both … now I know, there really is no polarity.
There is a true immersion into the depths of our feminine nature during the women's retreat. It offers an authentic experience of just "being" one with self and with the quality of the feminine that no other circumstance in life can offer. There are moments of such revelation that are witnessed and co-created as we become one body, one heart, and one truth together. Each step upon this journey has brought me closer to awakening the knowing presence within me.
Because of the shift which occurred over the weekend from the retreat, I have had the strength to stand up and speak up to some who had taken advantage of my kindness in the recent past, expecting me to keep giving of my self as I had in the past. I felt the love and power of my sisters for me to be able to so. Thank you again.
Feel the Sacredness of Mount Shasta, California.
Discover her crystal clear waters and powerful feminine vibrations.
Women's Retreat Itinerary
July 14-17, 2016

– Postponed
Welcoming – Arrive 3:00 to 4:00 pm
Retreat begins 4:00 pm.
Introductions & Opening Talking Circle
Dinner
Gather water from stream for Ceremonial Bowl
Creation Meditation Step 1– The Holding
Journey into Surrender and Acceptance
Talking Circle – dream reflections
First Prescription – Journey into Surrender
Lunch and Private Time
Second Prescription – Journey Into Acceptance
Enjoy Private Time (see options below)
Dinner
Creation Meditation Step 2 – The Divine ReUnion
Journey into Desire and Rebirthing the Self
Talking Circle – dream reflections
Third Prescription – Journey Into Desire
Lunch and Private Time
Creation Meditation Step 3– The Rebirthing of the Self
Fourth Prescription – Journey Into Commitment
Dinner and Private Time
Full Moon Ceremony
11:30 am Check Out and Departure from Retreat Center
Talking Circle – dream reflections
Closing Talking Circle
Trip to Mount Shasta with lunch and Silent Walk in the energy of the mountain (optional)
Private Time Options:
Walk along the creek near the cabin
Journal and meditate
Visit Stewart Mineral Springs and soak in the healing water
Extend your stay:
Visit Mount Shasta City, spend time on the Sacred Mountain, discover more of this beautiful land. Ask Ixchel for ideas and places to visit.
Register Now – Your Investment is $895
Bring a friend and SAVE $100
Register early, space is limited.
Accommodations are included at our retreat location for the first 10 people who register. After that, off-site lodging will be recommended at a reduced fee.
What is Included?
Lodging in cabin (up to capacity)
Guided meditations and Full Moon Ceremony
Journeys to sacred waters and Panther Meadows on Mount Shasta
Organic and healthy meals with vegetarian options
Travel to sites
What is NOT Included?
Transportation to and from Mount Shasta, CA
Off-site Accommodations (once retreat space is filled, though discount will be given)
Fees for using Stewart Mineral Springs
Personal snacks
Daily transportation to and from retreat facility (if you are staying off-site)
Arrival and Departure Information
If you are flying, you can fly into either Medford, Oregon or Redding, California. Each are about 1 1/2 hours from our retreat location (allow for at least 2 hours).
We recommend you arrive at the cabin in the afternoon, around 2:30 pm to allow time to settle in before we begin. Please note we are starting at 4:00 pm on Thursday for our opening circle and welcome dinner.
It's good to allow about 2 hours between Medford or Redding Airports and Mount Shasta, CA.
We recommend that you arrange departure on Sunday afternoon or evening. If you'd like, you can arrange to stay extra days on your own and enjoy the energy of Mount Shasta, or take in a visit to nearby Ashland, Oregon.
Please note that our retreat will wrap up at 11:30 am-12:00 pm on Sunday, July 17th. However, we are suggesting an optional after-retreat trip to spend time on Mount Shasta with the group. To allow for this, plan about 4 hours additional time into your schedule, so when planning your fight you probably won't want to leave sooner than 6:00 pm. (You will need to allow about 2 hours return if you are departing from one of the airports or drive time if you are driving home.)
What to Bring
At least one dress, skirt or sarong for ceremony
Bottle for collecting Sacred Water
Journal
Drum or rattle if you have one
Looking for an Empowering and Life-Changing Retreat?