Let Mary Magdalene help you access the greatest healing power in the world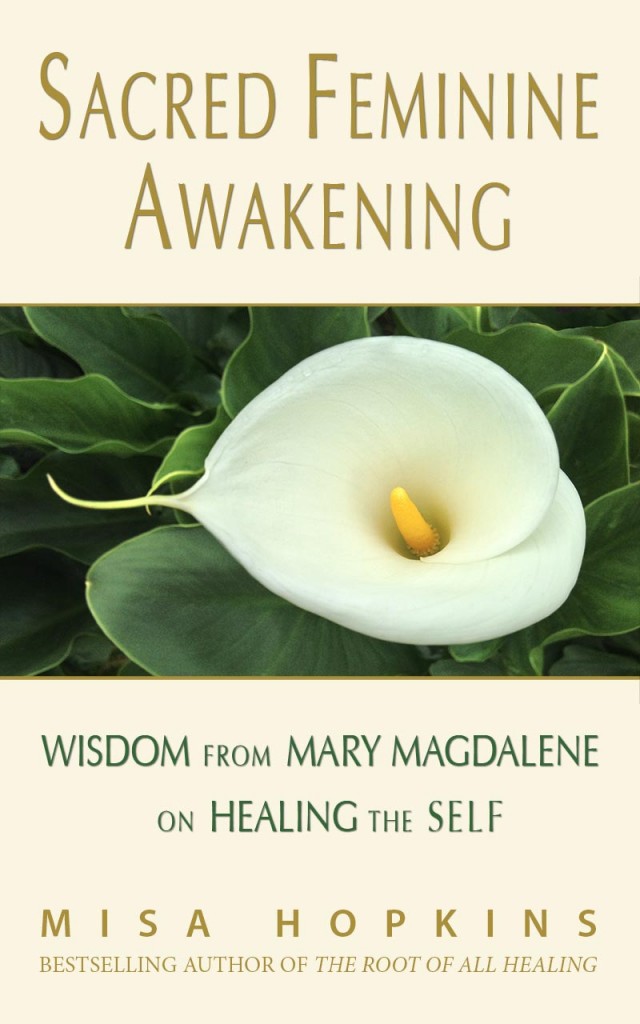 If you have ever wondered how to make the greatest difference in your healing through a simple, direct and clear path, you'll find deep, timeless healing approaches for any illness or condition in Reverend Misa Hopkins' book, Sacred Feminine Awakening: Wisdom from Mary Magdalene for Healing the Self.
After receiving a vision that Mary Magdalene had written several books about healing, Misa then found herself being awoken at night with the words of Mary's writing echoing in her mind. Agreeing to capture Mary's teachings for you, she wrote down Mary's Four-Fold Path for Healing the Self, the first in a series of four works on healing. In this short, and revealing book, you'll hear directly from one of history's most adept healers, Mary Magdalene.
As a healer, who has healed from her own chronic illnesses and has taught healing practitioners around the world, Misa includes some of her own insights for greater understanding about how to apply this ancient wisdom for your healing.
Misa was guided to incorporate Mary's teaching with the practice of Holding (introduced in Sacred Feminine Awakening: The Emergence of Compassion). With the two approaches combined, you'll be giving yourself a powerful way to create a deep healing state for addressing both emotional and physical pain, and ultimately to set yourself free.
This is an extraordinary book, a seminal work on the wisdom of the Sacred Feminine. Not only has Misa Hopkins channeled revelatory material sourced from Mary Magdalene, but she has added to this the profound teachings from her own spiritual lineage and traditions, which stem from the First Nation People of North America. In her exposition of the power of 'holding', the feminine way to both accessing one's sacred wisdom and healing oneself and others, she has gifted us immeasurably. Every woman needs to know about the power she contains within her being, and no one explains it better than Misa. Every woman needs this book. Give it to your daughters.
Wisdom From Mary Magdalene On Healing The Self is an astonishing gem of a book. I had never considered Mary Magdalene before as a healer. Her spiritual approach to self-healing is new, nurturing and supportive. I have been embracing self-healing for 30 years and have read innumerable books on the subject. This small book has given me more new insights and a deeper understanding of the source of pain and illness and how to remedy the underlying core than anything else I have ever read. She makes clear the link between our disassociation from love and the Divine and the source of our pain. The end of each section that summarizes Mary's advice and gives a short explanation is particularly helpful. I highly recommend this book for anyone interested in self-healing or in healing others.
This book gives us a new perspective on who Mary Magdalene was. We aren't used to thinking of her as a teacher and a healer. Her simple teachings show us that healing has less to do with focusing on an ailment than it does with enhancing our connection with God or the Divine. True healing is connecting to our true source. It's personal and profound. It simply changes everything about how we relate to ourselves and the world.
Buy your digital edition of Misa's book today and receive a guided meditation for deep emotional and physical healing!
Sign Up Today for Your Free Gifts!

Purchase at Amazon.com TODAY!
Go to Amazon.com and buy your Kindle edition for $2.99. (Most computers and mobile devices can read Kindle books.* We also give you a PDF version of the book when you register your Amazon purchase here!)

Return Here and Register
Come back to this page and register with your Amazon receipt number to receive the following gifts immediately.
Your free gifts include:
Audio recording of Misa's Heal Yourself guided meditation combining Mary Magdalene's Four-Fold Path for Healing with the ancient Native practice of Holding
PDF version of Sacred Feminine Awakening: Wisdom from Mary Magdalene for Healing the Self
*Don't have a Kindle? Free Kindle apps are available for iPad, Mac, PC and most other devices. You can also read your free PDF bonus version on any computer! (This book is not available in print at this time.) If you have any problems with your order or downloads, we're here to help!