Mary Magdalene reveals the most significant spiritual root of all illnesses and the greatest spiritual cure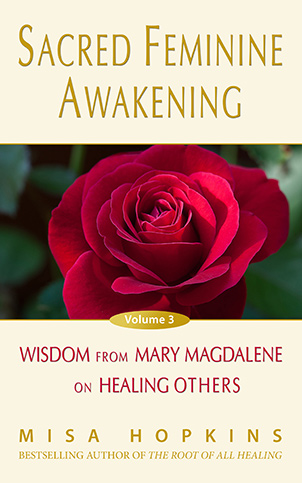 The newest book in the Sacred Feminine Awakening series shows you how to help others heal the single spiritual cause behind illnesses.
Misa shares the vision behind the books
This book on Healing Others builds upon the previous one, so that you DEVELOP your skills in healing yourself before you help others. So if you don't have a copy of the earlier book on Healing the Self, you might want to get a copy of each, today.
In both these books, which are the second and third in the overall Sacred Feminine Awakening series, Misa also interweaves Mary's teachings with her Native ancestors' practice of Holding, which gives you a context for integrating Mary's wisdom into your daily life.
Misa covers Holding in a Native way in depth in the very first book in the Sacred Feminine Awakening series, The Emergence of Compassion. So please consider getting all three books if you want to start at the beginning.
I was thrilled to receive the second installation in the Mary Magdalene series, Wisdom From Mary Magdalene on Healing Others. This is wonderful and comes at a great time in my learning as a novice healer. It really is all about helping people recognize God's love for them and in them. The Holding practice is the perfect way to help someone recognize how to experience God's love. I appreciate the part about understanding what gets in the way of healing and how we, as healers, need to recognize the underlying story that causes resistance. Thank you for sharing this wisdom!
Mary Magdalene's Divine connection resonated deeply within me. As a healer I found her insights and direction powerful and inspiring. Every healer should read this book to deepen their healing capacity.
[Sacred Feminine Awakening: Wisdom from Mary Magdalene on Healing the Self] is an extraordinary book, a seminal work on the wisdom of the Sacred Feminine. Not only has Misa Hopkins channeled revelatory material sourced from Mary Magdalene, but she has added to this the profound teachings from her own spiritual lineage and traditions, which stem from the First Nation People of North America. In her exposition of the power of 'holding', the feminine way to both accessing one's sacred wisdom and healing oneself and others, she has gifted us immeasurably. Every woman needs to know about the power she contains within her being, and no one explains it better than Misa. Every woman needs this book. Give it to your daughters.
Buy your digital edition of Misa's book today and receive a guided meditation for helping others heal.
Sign Up Today for Your Free Gifts!

Purchase at Amazon.com TODAY!
Go to Amazon.com and buy your Kindle edition for $2.99. (Most computers and mobile devices can read Kindle books.* We also give you a PDF version of the book when you register your Amazon purchase here!)

Return Here and Register
Come back to this page and register with your Amazon receipt number to receive the following gifts immediately.
Your free gifts include:
Audio recording of Misa's Heal Others guided meditation in which you experience the ancient practice of Holding another in the compassionate and unconditional love that sets them free. This meditation creates the perfect sacred space for helping people move through the layers of Mary Magdalene's Four-Fold Path for Healing.
PDF version of Sacred Feminine Awakening: Wisdom from Mary Magdalene for Healing Others
*Don't have a Kindle? Free Kindle apps are available for iPad, Mac, PC and most other devices. You can also read your free PDF bonus version on any computer! (This book is not available in print at this time.) If you have any problems with your order or downloads, we're here to help!