Read Mary Magdalene's timeless insights into healing
humankind's greatest challenges.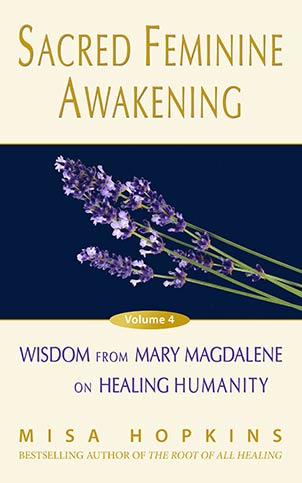 In Misa's fourth volume in the Sacred Feminine Awakening series, you discover Mary Magdalene's advice for healing the soul of humanity to create the world we desire.
Mary Magdalene's prescription and vision for healing humanity is as pertinent today as it was when she was walking the earth. Because this book is actually a letter Mary wrote to her students, you'll get glimpses into her life with Jesus—the nature of their relationship, a clue about whether they had a family, how Jesus was able to rise from the dead, the true meaning of "The Good News", Jesus' views about conversion, and much more.
As with all the books in the series, Misa also interweaves Mary's teachings with her Native ancestors' practice of Holding in the Sacred Feminine womb of creation, which gives you a context for integrating Mary's wisdom into your daily life.
Misa covers Holding in a Native way in depth in the very first book in the Sacred Feminine Awakening series, The Emergence of Compassion. The following three books feature Mary Magdalene's profound wisdom as a healer. So consider getting all four books if you want to start at the beginning.
I have never been so moved. I keep weeping as I read this. I spent four nights in Costa Rica working directly with God and your message is the very same. I recognized your presentation of the truth before but now I KNOW the information is true and brilliant. My understanding of what you have written is so intense that I have to read it in small chunks and then, re-read. This is glorious and so powerful.
The times we are living in today are as turbulent as they are awakening. The divine feminine can no longer be silenced as it emerges from the shadows as a force to be heard. That voice, whose wisdom is embodied through Mary Magdalene, calls forth love, compassion and knowing God as the answer to the problems humanity is facing. Misa has brilliantly articulated this message and this book resonates palpably these truths…..a must read!
Misa Hopkins has captured with pristine clarity and unadulterated love the teachings of Mary Magdalene within the Sacred Feminine School of Wisdom – the consciousness that is guiding the renewal of the Sacred Feminine Mystery Teachings at this time. Misa's words ring with clarity and soul-deep truth. More than that, they are a pure embodiment of the Sacred Feminine teachings for our times.
Buy your digital edition of Misa's book today and receive a guided meditation for healing the soul of humanity!
Sign Up Today for Your Free Gifts!

Purchase at Amazon.com TODAY!
Go to Amazon.com and buy your Kindle edition for $2.99. (Most computers and mobile devices can read Kindle books.* We also give you a PDF version of the book when you register your Amazon purchase here!)

Return Here and Register
Come back to this page and register with your Amazon receipt number to receive the following gifts immediately.
Your free gifts include:
Audio recording of Misa's Healing the Soul of Humanity guided meditation in which you experience the ancient practice of Holding groups of people in the compassionate and unconditional love that sets them free. This meditation creates the perfect sacred space for helping people move through the layers of pain in our collective consciousness.
PDF version of Sacred Feminine Awakening: Wisdom from Mary Magdalene on Healing the Soul of Humanity

Complimentary subscription to Prescriptions From Heaven, daily ecards inspiring love-based beliefs.
*Don't have a Kindle? Free Kindle apps are available for iPad, Mac, PC and most other devices. You can also read your free PDF bonus version on any computer! (This book is not available in print at this time.) If you have any problems with your order or downloads, we're here to help!