What Is the Sacred Feminine and
Why Is It So Important?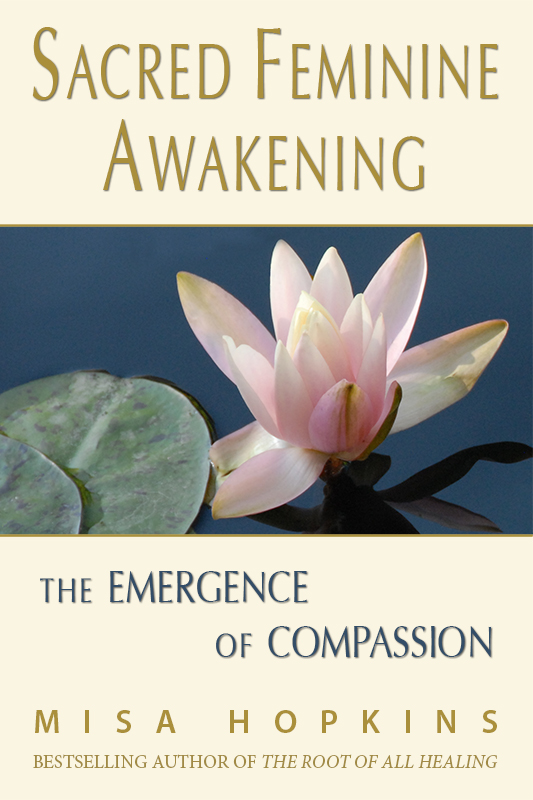 If you have been looking for a deep understanding of the Sacred Feminine and why it matters, personally and planetarily; whether you are a woman or a man, you'll find your answers in this best-selling book, Sacred Feminine Awakening: the Emergence of Compassion by Reverend Misa Hopkins.

As Misa shares her own mystical initiations and the ancient Native teachings she received, she opens a doorway of realization about why we need to understand and embody Sacred Feminine energy today, and why it is emerging now in order for us to to thrive as humans.

Along with insights, you'll receive a powerful, concrete tool you can use every day to open Sacred Feminine consciousness in your life, and ultimately to spiritual and physical freedom.
I would recommend this to anyone who is on a Spiritual path, especially when learning about or considering the Divine Feminine. I've re-read chapters numerous times just because they are so powerful and each time I get something else from it.
Sensitively written and a joy to read. I really loved this book and I feel that anyone looking to move beyond fear programming and self limiting thoughts- the insights and gentle wisdom written here will prove invaluable.
Ms Hopkins makes it easy to understand a complex subject without having to wade through long textbooks to get to the heart of the information. This short book is a real gem!
Buy your digital edition today and receive additional media to expand your experience!
Sign Up Today for Your Free Gifts!

Purchase at Amazon.com TODAY!
Go to Amazon.com and buy your Kindle edition for $2.99. (Most computers and mobile devices can read Kindle books.* We also give you a PDF version of the book when you register your Amazon purchase here!)

Return Here and Register
Come back to this page and register with your Amazon receipt number to receive the following gifts immediately.
Your free gifts include:
"The Holding" guided meditation audio download into the compassion of the Sacred Feminine
"The Touch of the Grandmothers" audio download of Misa's discovery of these lost and ancient teachings. PDF version also available.
PDF version of Sacred Feminine Awakening: The Emergence of Compassion"
*Don't have a Kindle? Free Kindle apps are available for iPad, Mac, PC and most other devices. You can also read your free PDF bonus version on any computer! (This book is not available in print at this time.) If you have any problems with your order or downloads, we're here to help!
Get the book at Amazon today